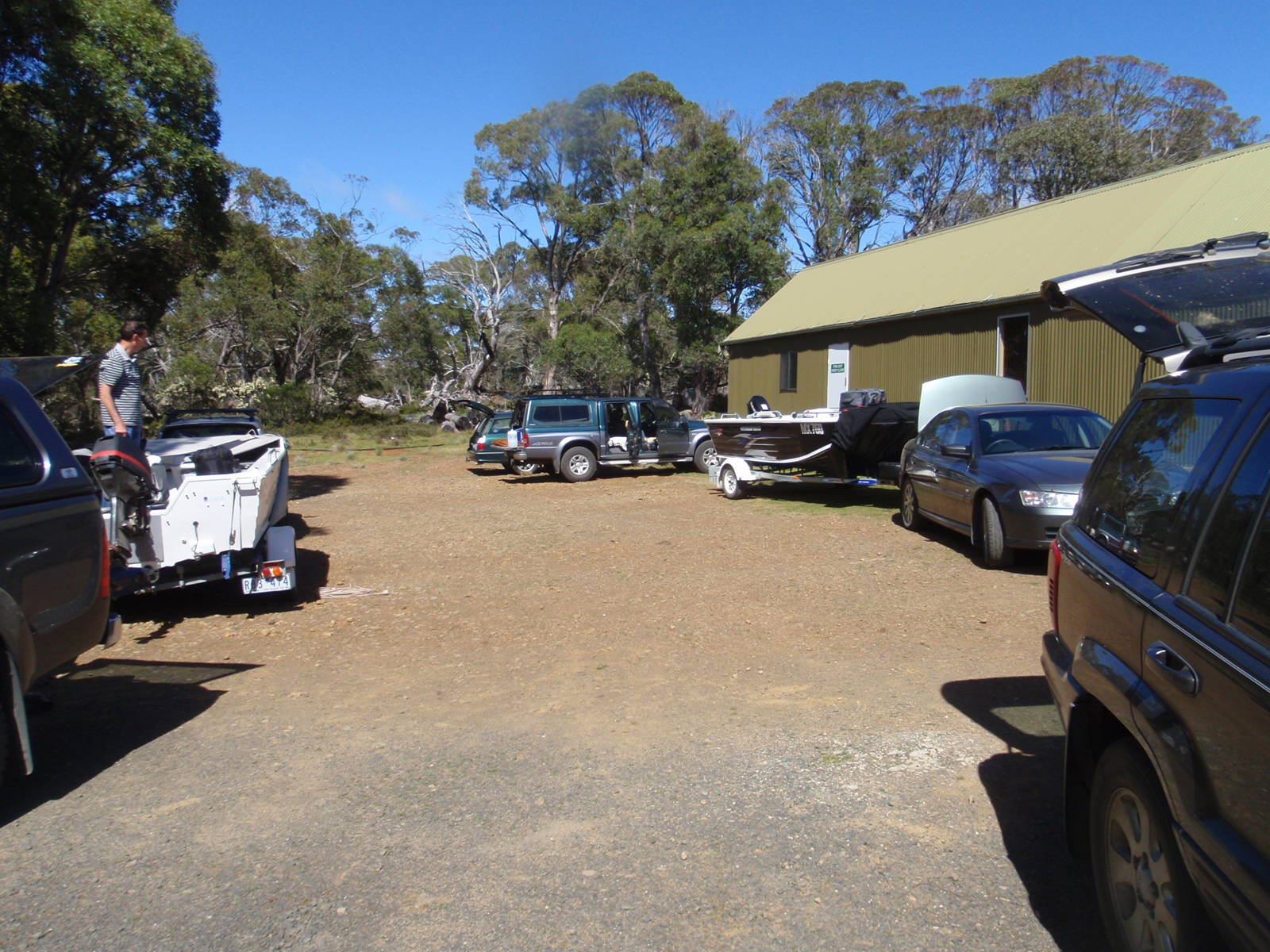 An enthusiastic team of nine members assembled on the "Spirit of Tasmania" for the annual club trip to the Central Highlands Lakes in Tasmania. Spirits were as usual high in anticipation of the week ahead and after a smooth crossing the team rendezvoused in Deloraine for the purchase of fresh supplies. Weather was warm, sunny and windy and this was unfortunately indicative of the conditions for the entire week - great if you were touring but certainly not ideal for fishing!
After arrival at Tiger Hut and settling into the familiar surroundings teams went off to try their luck.
The first fish of the trip was caught by Alf at Lake Botsworth and others had success in the hard wading Lake Kay.
An intrepid team of Andrew, George and Sandy had resolved before the trip to walk into Lake Fergus, overnight camp and fish, and return the next day. The weather conditions seemed best on the Sunday/Monday as overnight temperatures were to remain warm and ideal for camping out. Unfortunately this meant the daytime temperatures were warm and hence the walk in and out proved somewhat hot and tiring. Nevertheless within minutes of arriving George caught the first fish and anticipation was high for a great catch. This did not turn out to be the case but all three participants in the "Broke-back" experience rated Lake Fergus a great prospect.
The remainder of the week saw a variety of lakes fished - wading, off the bank, float tubing and boating - with varying success.
Overall, the week on the lakes resulted in a total of 26 fish (most caught at Lake Kay) and only three members of the team fishless.
Next year's trip has been booked - this time a month later - trying for some cooler weather and possibly better fishing.
Refer to the Gallery page for photos from the trip.
https://www.mpff.org.au/wp-content/uploads/2013/11/P2050001.JPG
1200
1600
Ian Herron
https://www.mpff.org.au/wp-content/uploads/2016/04/MPFF-Logo-1.png
Ian Herron
2014-02-12 13:28:25
2016-04-10 10:38:52
Tasmania 2014